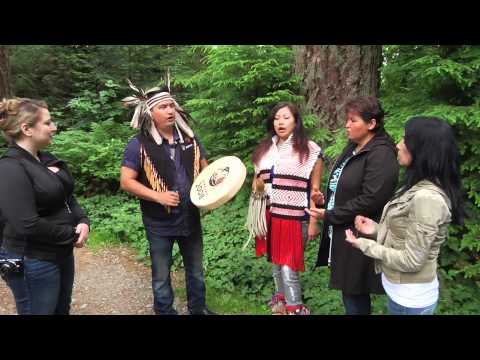 Coast Salish Welcome Song
On a recent Forest Walk through Stanley Park, Vancouver blogger Miss604 was treated to a traditional Coast Salish Welcome Song performed by Chief Ian Campbell of the Squamish Nation. These songs are an integral part of Canadian Aboriginal culture, and are still performed today for visitors who come to BC seeking an Aboriginal cultural tourism experience.
Announcing the Talaysay Tours App!
We are so excited to share with you our new project the Talaysay Tours App, which is what happens when Indigenous oral history meets Technology! 
The Talaysay Tours App is a way to experience our guided virtual tours of Áx̱achu7 (Beaver Lake) and Pápiy̓eḵ (Brockton Point Totem Park) in Stanley Park all contained on your mobile phone so you can enjoy our tours on your own time.
Plus, our highly educational interactive app will come to you no matter where you are in the world! Accessible both from home and in Stanley Park our virtual guides will teach you about the land, totems, art, culture and stories of Stanley Park from an Indigenous lens. 
Generations of oral history and teachings shared for the first time using our exciting location-based video player and interactive map! 
Coming soon is the Talaysay Tours App Kickstarter campaign with an invitation to our community to support the development of Talking Totems Tour and Talking Trees Tour Spring/Summer making this app a dream come true for us and an asset and resource for the world!